The twilight saga: breaking dawn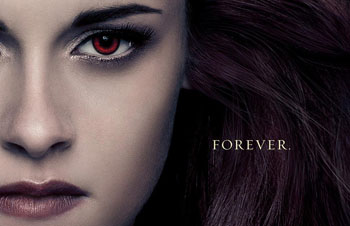 The most lovable saga of the twilight, it is a wonderful story by Stephanie Meyer. It is the most love and fantasy film on its accord. It was directed by Bill Condon. The film was casted with the crew of Robert Pattinson as the vampire, Kristen Stewart as a student and Taylor Lautner as a werewolf. The film is successfully completed with the budget value of $120 million.
The film is about to be distributed by Summit entertainment. The story comes around the love of vampire guy and a girl. This is the last installment of the twilight series. In the last part the couple gave birth to a baby girl, Renesmee and it makes Bella under very critical state and in order to save her, Edwards bites her all over her body. And the last part ends with an emergence of Bella as a vampire. In this part, the Cullen's family along with bella and their new born along with the werewolf, Jacob are rejoicing their life. But at a point Irina thinks that Renesmee is an Immortal child. This is because the kid was born to the couple of human and vampire, so it seems to be out of their family. And hence the report has been sent to Volturi by Irina. Volturi is the head of all vampires they will handle any situations in a ruthless manner. So Edward Cullen in order to clear the problems recruits a roster in the international vampire place to witness and to make the report unreasonable and they fight to death. Hence this movie mostly revolves around the True love and highly romantic life of Bella and Edward. Breaking dawn part 2 should find a great and successful balance between sentiments and in the mean time it should not spoil the already established formats of twilight. Another most important thing to notice will be Bella, with her all new super powers as a Vampire.
Hence in this Jacob's werewolf team in a team with the vampire will make a great war against the Volutri. Thus the twilight is just raising the interest and expectations of the public. This film is about the raise the bar of series and the conclusion should be very much satisfactory for all the lovers of twilight and it also must be amusing for the viewer of less knowledge about the prior episodes.