Oz - The Great And Powerful
Oz - The Great and Powerful' is a fantasy film about a hero's journey. This journey deals with conflict between good and evil prevalent in the land of OZ and his personal struggle with immense greed and morality. One of the interesting lessons depicted in the movie are show up, shut up and keep up. And the other "When we believe with determination, everything is possible".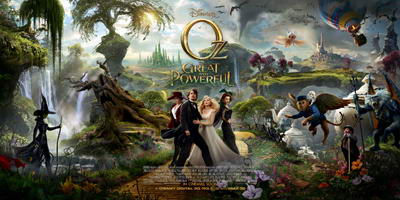 Due to the above mentioned points, the movie proves to be great and catchy. The film start like it is in the vintage era giving it that feel. Set out in 1915, in the outskirts of Kansas, the entire story revolves over Oscar (James Franco), a magician by profession. He's a charming Casanova who hypnotizes every single person he meets, especially good looking girls. Unfortunately, luck does not favour him.
After this, the film takes a twist. The land of OZ is an enchanting and overwhelming fairyland which appears like heaven. It basically revolves around the Emerald city. Here, Oscar meets three beautiful witches viz. Theodora (Mila Kunis), Evanora (Rachel Weisz) and Glinda (Michelle Williams) who crave for his attention. Because of growing problems in OZ, people there think of Oscar as their saviour.
Cinematically the film possesses great workmanship and eagerness. The script comes off as an ordinary one. Barring this, the director's (Sam Raimi's) dedication towards the movie is worth applauding. We will watch for more coming soon movies of Sam Raimi's.
Thus, Oz - The Great and Powerful' is a mesmerizing visual treat to the current generation which has not yet seen the movie.